Drive de adds
rolex uk
new Cartier series, new moon phase
rolex replica watches
equipped with Cartire 1904-LU MC refining workshop movement, 6 position with
fake omega
moon phase display and the complex function of accurate reproduction of the
fake hublot watches
new moon, moon, moon and moon cycle replacement time.
General Rules for All Types of Lifts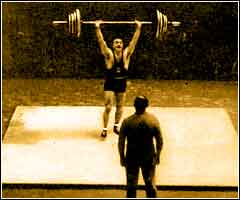 The technique known as "hooking" is permitted. It consists of covering the last joint of the thumb with the other fingers of the same hand at the moment of gripping.
In all lifts, pulling from the "hang" is forbidden.
In all lifts, touching the bar against the legs shall not render the lift "No Lift."
In all lifts, the referee must count as "No Lift" any unfinished attempt in which the bar has arrived at the height of the knees.
In all lifts, if the bar stops in its upward path before arriving at the shoulders (clean) or arms' length (snatch and jerk), the attempt shall be rendered "No Lift."
The use of grease, water or any similar lubricant of any kind on the thighs is forbidden. The lifter who uses lubricants will be ordered to remove them. During the removal the clock will run.
In all lifts, touching the platform with any part of the body other than the feet shall render the attempt "No Lift."
Any clean in which the bar is placed on the chest before the turning over of the elbows shall render the attempt "No Lift."
Any clean touching the thighs or knees with the elbows or upper arms shall render the attempt "No Lift."
In the jerk, any apparent effort from the shoulders, if the lift is not completed, must be counted as "No Lift." This includes lowering the body or bending the knees.
After the referees' signal to replace the bar on the platform, the lifter must lower the bar and not let it drop either deliberately or accidentally. The lifter may release his grip when the barbell has passed below the level of the waist.
If a competitor cannot fully stretch their arm resulting from anatomical deformation of his elbows he must report this fact to the three referees and the jury before the beginning of the competition.