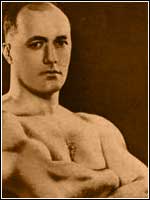 Bob Hoffman (1898-1985) was considered the father of U.S. Olympic weightlifting. Although he was never an elite Olympic lifter or coach, Hoffman single handedly supported this sport overall and its athletes for decades. In many ways, he was the uncrowned king of this sport in the USA during its heyday on the international arena from the late 1930s to the 1950s.
Bob Hoffman was a decorated veteran of World War I. For his heroics on the battlefields in Europe, he was awarded 3 Croix de Guerres with two palms and a silverstar from France, the Belgian Order of Leopold and the Italian War Cross and the Purple Heart. Back at home, he started his own business in the 1920s. At first, it was selling of the oil burners which later on developed into the world known York Barbell Company in Pennsylvania, USA.
Hoffman's contribution to the Olympic weightlifting development in the USA and in the world was unprecedented. He sponsored national and international competitions and paid for the Team USA travelling expenses, provided training facilities, manufactured and distributed weightlifting equipment, published the Sports and Health magazine. Many world class athletes were either employed or received college education due to Bob Hoffman's support. In many ways, it was a private businessman alternative to the state-run sports machine in Eastern Europe that began to dominate the world of the Olympic weightlifting in the following decades.
Bob Hoffman was a man who influenced and guided weightlifting for half a century. He died on July 18, 1985 suffering heart disease and dementia.