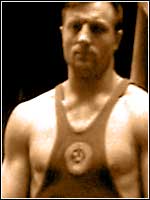 Rudolf Plukfelder (b. 1928) proved his legendary status as both active Olympic weightlifter and the coach of world class athletes.
As a world-class athlete, Plukfelder was one of the leaders of the 82.5 KG weight class from the late 1950s to mid 1960s. Despite his success at the international competitions, Plukfelder's career on the platform wasn't exactly an easy ride to the gold medals. Coaches of the national team marked Plukfelder as a flaky and unreliable lifter after his failure to lift at the 1960 Olympics in Rome. At the Olympic trials, Plukfelder injured his back and refused to lift during the Olympics. During the following Olympic cycle, Plukfelder won several world titles and at 36 won the gold medal at the 1964 Olympics in Tokyo.
Plukfelder's coaching career is virtually unmatched in terms of individual preparation of Olympic and world champions. He was a founder of a weightlifting school in a small miner's town Shakhty in Ukraine. The list of his graduates includes such elite lifters as Alexey Vakhonin, David Rigert, Nikolay Kolesnikov, Gennady Bessonov, Vasily Alexeev, Gennady Chetin and more. Very much like during his lifting career, Plukfelder had numerous disagreements with the national team coaches in terms of training of the world-class athletes. Plukfelder openly propagated the "better less but more" formula based on high tonnage training sessions and showing maximum results at the competitions. Style wise, Plukfelder was a very detail-oriented, demanding and, in many ways, dictatorial coach.
Currently, Rudolf Plukfelder resides in Germany.