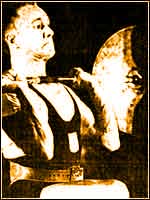 Waldemar Baszanowski (b. 1935) was a legendary lifter from Poland. He is considered one of the greatest weightlifters of all time.
As a member of Polish national team, he took part in four Olympic competitions in 1960, 1964, 1968, 1972 and won two gold medals in the lightweight class in Tokyo in 1964 and in Mexico City in 1968. He won five gold medals in the world championships in 1961, 1964, 1965, 1968 and 1969. In his weightlifting career, he set 25 world records.
When Baszanowski retired from weightlifting competitions, he launched a successful career as a scientist, coach and took an active part in the international weightlifting organizations. In 1999, Waldemar Baszanowski became President of the European Weightlifting Federation.