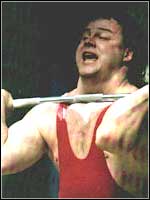 Alexander Kurlovich (b. 1961) was one of the most talented and distinguished athletes in a super heavyweight class. He held the title of the "World's Strongest Man" from the mid 1980's to the early 1990's. A native of Belorussia, Kurlovitch won two gold medals at the Olympics in Seoul in 1988 for the USSR and in Barcelona in 1992 for the Unified Team of former Soviet republics.
As a promising young super heavyweight in the early 1980's, Kurlovich showed a nearly perfect technique in both the snatch and the clean-and-jerk that almost brought him to the top of super heavyweight competition after Alexeev's retirement. However, in 1984, Kurlovich was arrested by customs officials in Montreal and charged with importing anabolic steroids with intent to sell. He pleaded guilty and paid a fine of $ 450. The USSR Weightlifting Federation banned him from competition for two years. In 1987 he returned to win the world championship and later on won the Olympic gold medal in 1988. At the Olympics, his two leading challengers, Antonio Krastev of Bulgaria and fellow Soviet Leonid Taranenko withdrew from the competition, presumably because of fear of exposure as a result of improved drug testing techniques. Kurlovich set Olympic records in the snatch and in the total.
In 1992, Kurlovich won his second gold medal at the Olympics in Spain.